On Sunday, July 9th two of Canada's top Caribbean dance artists will be touching down in Saskatoon to share their talent, passion and knowledge of Dancehal and Soca…def SOL is beyond excited to present a full day of workshops with Clifton Stennett (Cadence Touch Academy-Toronto) and Cherelle George (SocaFit, Fly Girlz-Edmonton).
Dancehall & Soca Workshop Schedule 2017 (PDF)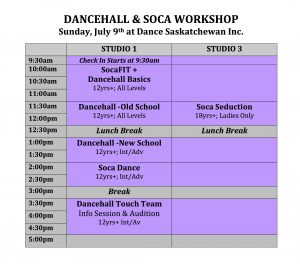 *Please note the workshop schedule may be subject to change.
10:00am-3:00pm Soca & Dancehall Workshops for 12yrs+
*Morning classes are Open Level (no experience required). Some experience recommended for the afternoon classes but we welcome all who are up to the challenge.
3:30-5:00PM Dancehall Touch Team Info Session & Auditions! Click HERE for more information.
---
Workshop Pricing & Registration
*Early Bird rates available until June 30th, 2017. Prices below include GST*
Please note a 3% online fee will be added at check out.
Single Class Drop In: $25.00
2 Class Package: $40.00 (no early bird rate)
3 Class Package: $52.50 early bird; $57.75 regular
4 Class Package: $63.00 early bird; $73.50 regular
Full Day Package (4 Classes + Dancehall Touch Audition): $84.00 early bird, $94.50

---
Meet the instructors…
Clifton Stennett
Clifton Stennett is the Co-Owner/Director of Cadence Dance Academy. A Toronto based dance school, known for their creativity, explosiveness, charisma, and unique style. They believe all variations of dance to be beautiful in their own right and deserve to be recognized and appreciated just as much as any other dance genre.
Their primary goals are to stay true to their craft, dance with true emotion and meaning, and give 150% every time they set foot on stage.
Clifton has travelled to Europe, Asia and all across North America teaching and performing for all kinds of audiences. He is professionally trained in Salsa, Afro-Cuban, Cha-Cha, Bachata, Dancehall and Hip Hop.
As he travels the world, making new friends and experiences, Clifton vows to continue sharing his knowledge and love for dance as it was done for them.
D.R.E.A.M
Cadence Touch Videos:
https://www.youtube.com/watch?v=OHT8eGOcby8
https://www.youtube.com/watch?v=mh5GjxEyjiY
https://www.youtube.com/watch?v=Wel5ulwon_I
Cherelle George
"Cherelle started her professional dance career dancing with a local all-female hip hop crew called "The Fly Girlz". Dancing has provided her the opportunity to train with amazing teachers from around the world as well as open for some wel known artists.
Her love for her culture has always been a big part of her identity! Being raised by proud Trinidadian parents, it only made sense that she continued on with this path of greatness and focus on building something that fueled her 3 biggest passions- Dance, Soca, & Fitness.
Since creating this program, Cherelle has connected with some amazing people throughout the years and has been presented with many opportunities to perform with artists such as Kerwin Du bois (Trinidad and Tobago), Lead Pipe & Saddis(Barbados), Edwin Yearwood (Barbados), & Chucky (Trinidad and Tobago).
Cherelle's mission is to share her love and passion for her culture. Her spiritual connection with Soca music is what she strives for every student to get to. Be prepared to be fueled by the riddims and Unleash Your Inner Bacchanalist"