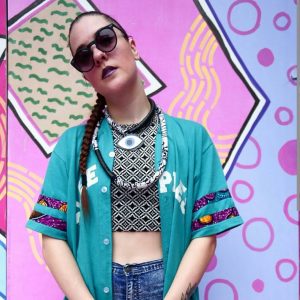 aka Chalice
Reppin Project Soul (Vancouver BC)
Erin Walton aka Chalice is a versatile dance artist specializing in freestyle, performance, creation & instruction. With roots in both the street and studio worlds of dance Erin has spent the majority of her life expressing and expanding through movement. Growing up in Saskatoon Saskatchewan Erin's studio training focused on Ballet, Jazz, Musical Theatre and Contemporary.
Outside of the studio Erin's teachings came from programs such as Rap City and Yo MTV Raps. Learning hip-hop & breaking from music videos and sessions with Local Saskatoon bboy crews such as Eternal bboys and Skill force. In hopes to grow her abilities she begun pursuing knowledge and training in cities such as Vancouver and Los Angeles and eventually moved to Vancouver in 2009.
Over the past six and a half years she has trained with programs and teachers in hip-hop, waacking, popping, locking, house and breaking such as SOULdiers (Kim Sato), Jojo Zolina, Natasha Gorrie, Groovaloos, Mr. Wiggles, Archie Burnett, Tyrone Proctor, Foret Noir, Waackisha, Black Kat, Ken Swift, Poe One and most recently Meech de France. Currently you can find Erin competing in Hip-Hop, Waacking & All-Styles battles throughout Canada and the US, performing & teaching with Project Soul and choreographing for The Lovers Cabaret.
Battle credits & recent performances include:
Dance off – Macklemore (Official Video), Six Word Stories – The Lovers Cabaret (Featured Choreographer), Queen of the Hill 2015 – 1st place (All-Styles), Honor Roll 2015 – 1st Place (All-Styles), Vancouver Street Dance Festival 2015 – 2nd place (Hip-Hop), Reign Supreme (Bumbershoot) 2015 – 2nd place (All-styles)