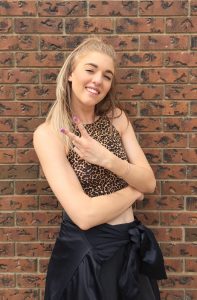 Marena began dancing in 1994 in Rosetown, Saskatchewan. While growing up, she trained in ballet, pointe, jazz, tap, musical theatre, and contemporary dance. Marena also completed her Canadian Dance Teachers Association certification in both tap and jazz in 2007 and instructed tap and musical theatre at Glassford's School of Dance from 2006-2008 before moving to Saskatoon to attend the University of Saskatchewan. In 2013, Marena completed her Bachelors of Education degree.
As she continued to explore different music genres throughout her teenage years, Marena connected with the musicality, stories, social voice, and energy that hip-hop music offers dancers, which lead her to shift her focus to urban dance styles.
Marena currently dances with def Sol's Ladiez 1st and Original Hype teams and was the 2017 instructor for Lil' Homiez. When she isn't dancing at Def Sol, Marena facilitates the creative dance program for kindergarten to grade 8 students at Georges Vanier Catholic Fine Arts School.