Develop your skills in hip hop and a variety of street dance styles, learn a fun & original choreography and perform it on stage with your team!
Our Non-Competitive Performance Program runs in two 'Semesters' to offer students the flexibility to join us for a single semester (4-5months) or the full dance season (9months). Each semester will explore new street styles and a brand new routine to keep things fresh!
Semester 1 (Sept-Dec 2017)- all groups perform in our Christmas Boogaloo Show (December 9th, 2017)
Semester 2 (Jan-May 2018)- all groups perform in our Year End Show (May 26, 2018)
*Note: There will be a mandatory technical rehearsal day of each show. All students must maintain regular attendance- those with 3 or more absences in a semester will not be permitted to perform.
NON COMPETITIVE PREFORMANCE CLASSES AVAILABLE: 
BREAKIN' (12yrs+; Intermediate) | Mondays 7:00-7:55pm
Build on the fundamentals of Breakin (top rock, down rock, freezes, power) and develop your musicality and individual freestyle. Recommended for Intermediate dancers -min. 2yrs experience recommended. Taught by BBoy Fuse (Concrete Mentality, Alpha Kids).
NU SOULZ (7-10yrs; Beginner) | Tuesdays 5:00-5:55pm
Learn the basics of Hip Hop and other street styles in this high energy class for young movers and groovers. Add on to a progressive routine each week to show off to perform at the end of each semester. No experience required. Participants must be 7yrs as of September 1st, 2017 (sorry no exceptions as space is limited)
YOUNG STUNNAZ (13-17yrs; Beginner to Intermediate) | Tuesdays 7:00-7:55pm
Take your techniques and confidence to new heights through SK's most 'legit' street dance training experience. A minimum of 1-2 years experience is recommended for this team. For those brand new to Hip Hop/Street Styles, we recommended starting with Foundations.
LADIEZ 1st (18yrs+; Intermediate) | Tuesdays 8:00-8:55pm 
Experience the more 'feminine' side of street dance with a fun and sassy class sampling from the styles of Waacking, Vogue and Video style choreography. Geared toward the advanced beginner or intermediate dancer (min. 2-3yrs experience recommended).
ORIGINAL HYPE (17yrs+; Beginner to Intermediate) | Tuesdays 9:00-9:55pm
A ridiculously fun yet challenging performance class for adults! Learn an original choreography featuring a mix of street styles then show & prove by getting on stage at one or both of our professional & student showcases this year! Some experience recommended but not required.
LIL HOMIEZ (5-6yrs; Beginner) | Wednesdays 5:00-5:40pm
Learn the basic steps and rhythms of Hip Hop and urban dance through fun interactive instruction, exercises and dance-based games. No experience needed! Participants must be 5yrs as of September 1st, 2017 (sorry no exceptions as space is limited).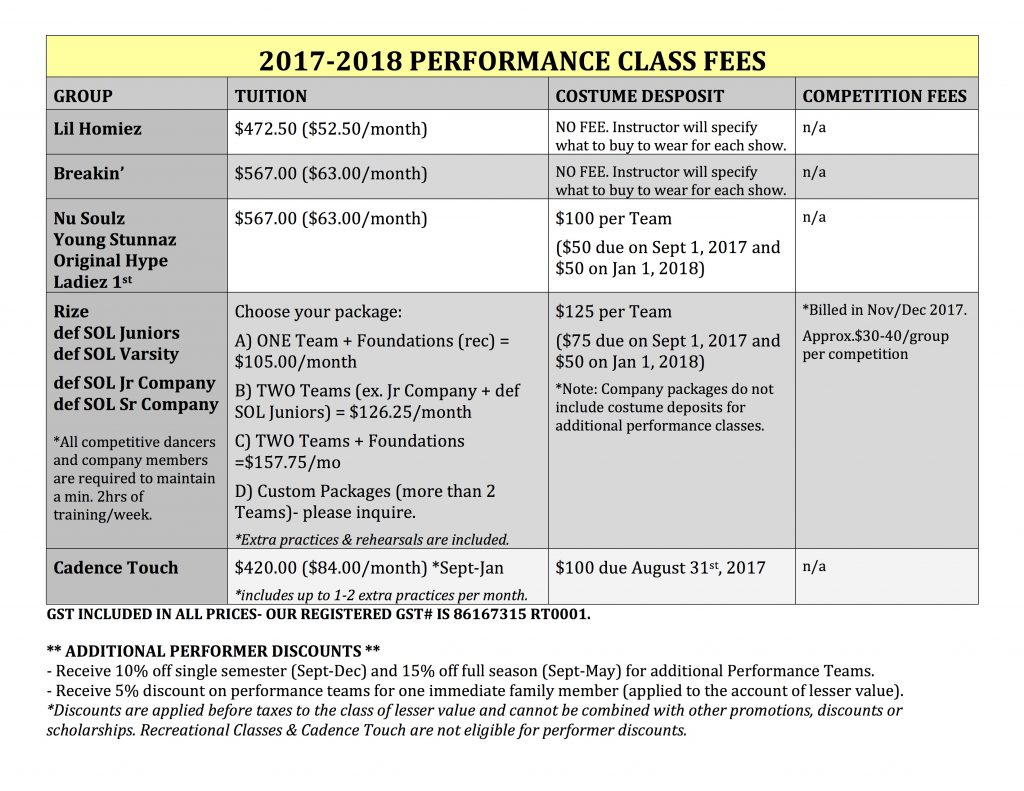 ALL Performance Classes require an In-Person Registration.