2017 Summer Faculty
Erin 'Chalice' Walton (Project Soul)
Specializing in Waacking and Hip-Hop Erin 'Chalice' Walton has been apart of the Pacific NorthWest battle scene for the last 6 years. Competing in cities such as Vancouver, Portland, Tacoma and Seattle where she won the title of 'Queen of the Hill 2015'. Originally from Saskatoon Erin began battling as a bgirl while training with local bboy crews such as Eternal bboys and Skill Force Crew. More recently she has competed at events like 'Hot Mess' in Montreal as well as "Ladies of Hip Hop' & 'Step Ya Game Up" in New York. When she's not battling Erin works full time as a Dancer, Choreographer and Teacher in Vancouver, BC. Erin has had the pleasure of learning from some of the top street dancers and originators in the game including Mr. Wiggles, Link, Buddha Stretch, Meech de France, Waackisha, Tyrone Proctor, Archie Burnett, Sam -I -Am, Black Kat, Foret Noir, Ibuki, Yoshie, Toyin, Kim Sato & Natasha Gorrie. Some of her credits include, Macklemore, Star Captains, Project Soul, Subscura, The Lovers Cabaret and winner of Honor Roll (2vs.2) 2015.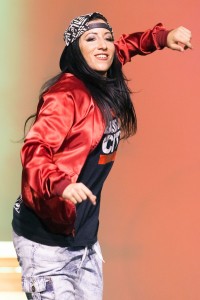 Amanda 'mRae Grooves' Murray (Director of def SOL)
Since creating def SOL Productions in the summer of 2004, Amanda has remained a pivotal force in the growth and recognition of Saskatchewan's urban dance scene. She is recognized as an 'All Styles' dancer and specializes in the art of 'groove'. Over the past 5 years she expanded her career to Edmonton where she became an instructor and performer with the 3SB Crew (2014 Canadian Hip Hop Champions) and more recently a member of of the Fly Girls Crew opening for artists TLC, Sean Paul and Tribe Called Red. To remain 'legit' as both an educator and performer, Amanda continues to pursue training opportunities across North America in numerous styles of street and cultural dance forms. She has trained with top choreographers and dance legends including original members of the Elite Force Crew, Dance Fusion, Electric Boogaloos, LA City Rockers, M.A.W.U., the Groovaloos, Djoniba, I.S.A and many more. Other credits include: Swinging with the Stars Saskatoon- 2017 Winner, Balikbayan Project Instructor (Phillipines), Codie Prevost CMT Video, Lieutenant Governor's Arts Awards, opening for NAS, Joe Budden, Jabbawockeez & ABDC's SuperTour.
Natalie 'Natabelle' Clarke (def SOL Crew) 
From a very young age, Natalie has been a triple threat. She sings, plays piano, and acts however dance is her true passion. At the age of 8, she started training in Flamenco, then after a few years she decided to explore other dance forms including ballet, jazz, modern and hip hop. She successfully auditioned for the def SOL Company in 2011 and quickly became a member of the def SOL Pro. Crew by the summer of 2013. Performance experience includes: Folkfest (Caribbean, Hispanic, and Mediterranean pavilions), WE day, Reggae Festival, B.R.I.T, Dragon Boat Festival, Fireworks Festival, Stars of Hope, Girls in Motion, and many more events and performances. She also starred in BSK 50's music video: "fake friends," and was a back-up dancer for local RnB singer "Curtis Vinish." Natalie recently put her mark on the competitive dance scene with her solo performance of the possessed doll 'Annabelle'. She won 1st overall solo at both Artists Emerge & Represent national street dance competitions in Edmonton this past spring. She also won awards for Top Score, Adjudicator's Choice plus a scholarship to the Artists Emerge workshops with the judge's. This summer she will be training in New York with her def SOL crew mates as well as a attending an invite-only street dance camp in Vancouver under the direction of AJ Megaman (Heavy Hittaz Crew) and top street dancers and freestyles from across Canada.
Jolly 'JayDee' de Guzman (def SOL Crew) 
Bio Coming Soon!
Marena Duffus (def SOL) 
Marena began dancing in 1994 in Rosetown, Saskatchewan. While growing up, she trained in ballet, pointe, jazz, tap, musical theatre, and contemporary dance. Marena also completed her Canadian Dance Teachers Association certification in both tap and jazz in 2007 and instructed tap and musical theatre at Glassford's School of Dance from 2006-2008 before moving to Saskatoon to attend the University of Saskatchewan. In 2013, Marena completed her Bachelors of Education degree. As she continued to explore different music genres throughout her teenage years, Marena connected with the musicality, stories, social voice, and energy that hip-hop music offers dancers, which lead her to shift her focus to urban dance styles.Marena currently dances with Def Sol's Ladiez 1st and Original Hype teams and was the 2017 instructor for Lil' Homiez. When she isn't dancing at Def Sol, Marena facilitates the creative dance program for kindergarten to grade 8 students at Georges Vanier Catholic Fine Arts School.