IT'S BACK!! AUGUST 12-13th, 2017
Location: Dance Saskatchewan Inc- 205 Pacific Ave.
Strictly Hip Hop is Saskatchewan's biggest annual urban dance intensive providing quality training in Hip Hop and a variety of urban/street dance styles and choreography. Since 2005, we have provided hundreds of dancers across the province a unique opportunity to work with the top local artists and industry professionals. Stacked with highly talented faculty from across Western Canada, Strictly Hip Hop fosters a positive community vibe, while challenging dancers of all ages and levels. Check out our 2017 Faculty!!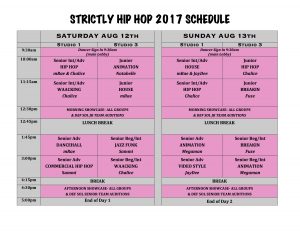 Strictly Hip Hop- 2017 Schedule (revised)- Printable PDF
*workshop styles and instructors may be subject to change.
All classes are 1hr 15minutes and include access and invitation to perform in the morning/afternoon showcases.
Junior Intensive (Ages 8-11yrs) 10:00AM-12:45PM
-2+years experience recommended however all levels welcome
Senior Intensive (Ages 12yrs+) 10:00AM-5:00PM
– Adv level for dancers with 5-6yrs+ experience; required for def SOL Crew & Company auditions
– Int/Adv level classes geared toward dancers with min. 3-4yrs experience
– Beg/Int level level classes recommended for dancers new to the styles being taught
SHH Workshop Pricing & Registration
*Early Bird rates available until July 15th, 2017. Prices below include GST*
Please note a 3% online fee will be added at check out.
JUNIOR INTENSIVE | SAT & SUN 10:00AM-12:45PM 
BOTH DAYS (4 Classes) $73.50 early bird; $78.75 regular
ONE DAY ONLY (2 Classes): $42.00 regular rate only
Single Class Drop In: $25.00 *only if space is still available
SENIOR INTENSIVE | SAT & SUN 10:00AM-5:00PM
BOTH DAYS (8 Classes) $126.00 early bird; $147.00 regular
ONE DAY ONLY (4 Classes): 73.50 early bird; $84.00 regular
SINGLE MORNING/AFTERNOON (2 Classes): $42.00 regular rate only
Single Class Drop In: $25.00 *only if space is still available

*To pre-register by cash or cheque, please fill out the printable Strictly Hip Hop 2017 Registration Form and drop it off with your payment one of our upcoming summer events:
Summer Stylez Youth Camp: July 4-6th form 1:00-4:00PM at Saskatoon Salsa- 3521 8th Street E (Basement Suite B6/B7)
Summer Stylez Evening Workshops: July 4&5 from 6:30-9:30PM at Dance Saskatchewan Inc.- 205 Pacific Ave
Dancehall & Soca Workshop: July 9th from 10:00-5:00PM at Dance Saskatchewan Inc- 205 Pacific Ave